POST
Do you use Haro? (Help A Reporter Out)
Author: Alan Richardson
HARO (Help a Reporter Out) is a service where 'reporters', or people looking for sources for quotes and content, can post a query, and then choose from response answers. If your answer is successful then your quote might appear in an article with a reciprocal link back to your content.
How to get started
sign up as a source
then change your email preferences so you receive relevant requests
I signed up for the HARO Master list - which basically just sends through all the requests. This takes a little longer to read through but you never know where you will find overlap with other sectors.
When a Request comes through that you want to respond to, follow the instructions about content and reply.
Success
I recently had my first success with HARO.
I was checking my emails before I went to bed, and up popped a request for "How do Enterpreneurs use blogs to promote their business?"
Perfect. Not my normal 'Technology' area, and if I had not subscribed to the Master List, I might have missed it.
I needed to:
write a paragraph answering the question
attach a headshot
include a link to a relevant blog post
reply via email
I already have a folder with headshot pictures because I have to speak at conferences quite a lot and they always want blurbs and headshots - so that was a copy paste exercise.
I've been working on my marketing strategy, so I alread knew why I blog - writing the paragraph only took a few minutes.
I spent time selecting a blog post that I thought might help me grow my business.
Then sent of a reply.
A few days later, I received a generic email saying the article was going live, but not everyone that submitted would be in the article.
I read the article and was happily surprised to see my content there and links to my sites.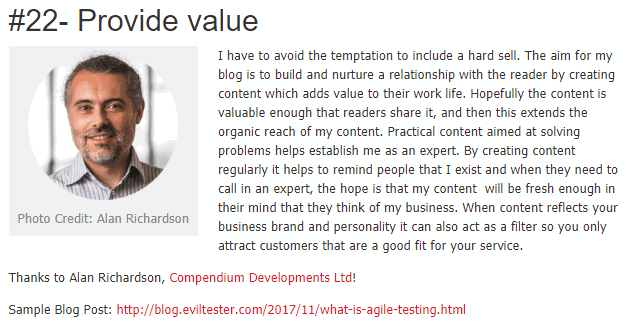 Interestingly, I noticed that some people did not include links to their blog posts. This was asked for in the brief. I recommend sticking to the brief as closely as possible as you never know how many people will reply and any deviation from the brief could make the difference between inclusion or not. Also I think that was a missed opportunity on their part, the only received one back link, when they could have had two.
All told I think that was a worthwhile investment of time, and it has encouraged me to reply to more HARO requests when they pop up.
HARO Tips
Be Ready
Write a Compelling Headline
Be On Point
Be Ready
Have a folder on your hard drive pre-prepared that has:
a professional headshot image (or two)
images formatted to different resolutions and sizes
a pre-written 'about me' blurb of different lengths
This will help you respond to HARO queries quickly, and you do want to respond quickly.
Write a Compelling Headline
Use your marketing copywriting skills to write a compelling email title when you respond.
Remember:
you are answering a query
you are also writing a sales pitch
Be On Point
Include all the information asked for
Edit your copy so that it can be instantly used
Don't add extra stuff that is not asked for
Stick to the brief
Sign up to HARO
Visit https://www.helpareporter.com/ and add this as an extra tactic as you implement your content syndication strategy.
comments powered by

Disqus