POST
Free Online Text To Image Tool
Author: Alan Richardson
A description of our Text To Image tool, for easily creating images for Instagram, Twitter and other social media sites.
I recently needed a text to image tool that I could automatically generate images from text. I couldn't find one that supported exactly what I wanted to do so I wrote one. And then I tidied it up to make it usable by other people.
You can find it here if you just want to get started:
And it looks like this: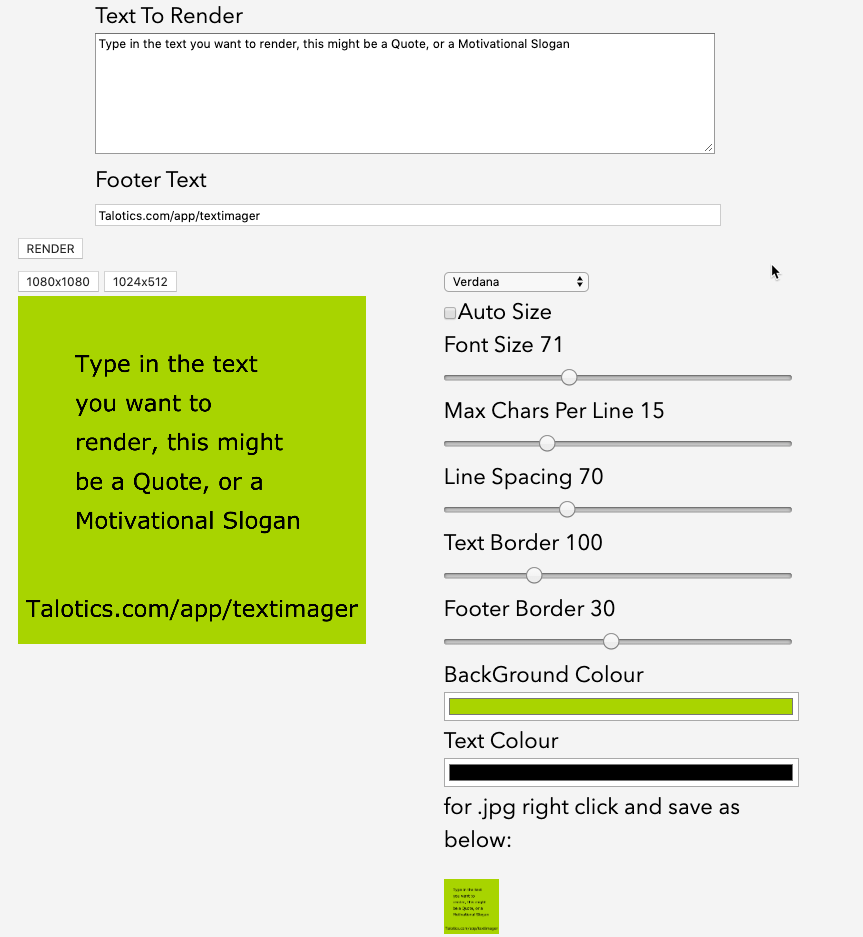 Basic Usage
Type in the text you want to render, this might be a Quote, or a Motivational Slogan.
Type in the Footer, this is usually your domain name e.g. Talotics.com
Click The [Render] button
The tool will automatically try to format your text for the image, but if it isn't quite right then you can adjust the values with the controls on the right.
Saving the Image
In a browser you can right click on the image and save as .png.
if you want to save as .jpg then right click and save as image the small thumbnail under the config.
Different Social Sites
The application has buttons for sizing the images:
1080x1080 for Instagram (square)
1024x512 for Twitter (rectangle)
But social media sites are slightly less fussy than they used to be so you can use either size on Facebook, Twitter, LinkedIn.
Simple and Basic
I kept this simple and basic. It is intended for quick creation of images rather than the complex functionality available in other SAAS products.
Video
Create Images From Text For Social Media Online Free Tool
comments powered by

Disqus