POST
How to Make Your Podcast Findable
Author: Alan Richardson
I used to wonder how I was going to get my podcast to appear in the search engines for Podcast applications, but it seems as the though the answer is simple:
In order for your podcast to appear in podcast application search engines you need to submit an RSS feed to iTunes.
This is why most people use a podcast services to host their podcast.
I have the technical knowledge to host my podcast independently, and create and RSS feed, but I didn't think the hassle of doing that outweighed the expense. There are free Podcast hosting services, but I decided to start with PodBean which has a good starter package at $36 a year.
You need to create a show and an episode
On your chosen podcast service, create a new show and upload an episode.
This is what my first podcast episode looked like in PodBean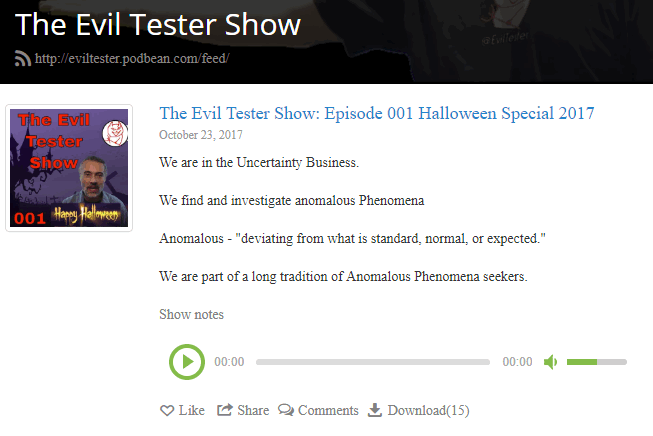 I then needed to complete the iTunes information in my PodBean settings.
I click the settings or "cog" icon from my PodBean admin home screen.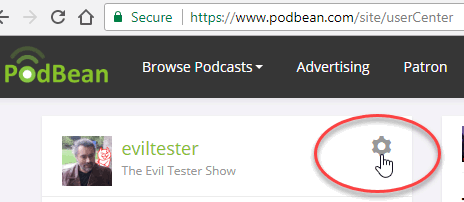 Then I want to amend the Feed/iTunes settings: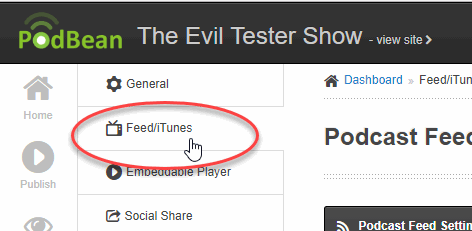 Fill in all the information that you can (you will leave the iTunes:FeedID empty becuase you don't know that yet).
But we want to add the following because iTunes will validate your feed as part of the submission process.
iTunes:Summary
iTunes:Author/Owner
iTunes:Subtitle
iTunes:Email
iTunes:Explicit
iTunes:Type
Once you have filled in all of the above you can copy the url for the feed into your clipboard ready to paste it into iTunes.

iTunes
Most Podcast applications seem to use iTunes as their default search engine so we need to get our Podcast listed on iTunes.
Fortunately this is a free process.
You'll need ot have an "Apple ID" to list your podcast on iTunes but if you don't have one then you can create an ID from the podcast service login page.
If you have an iTunes ID and are logged in, then head off to the "New Feed" page.
Or click the "+" icon from the My Podcasts page

Then, you enter your RSS URL from your podcast service.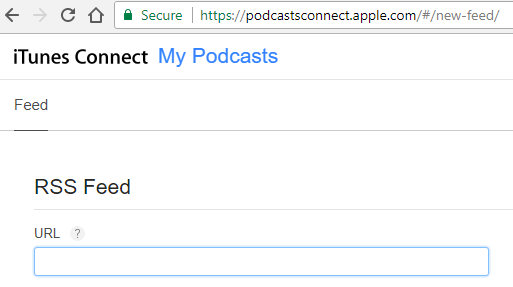 Click the [Validate] button to make sure your feed is OK
Click the [Submit] button to start the process moving
You'll receive email notification of the state of the process.
When you receive and "iTunes Store Podcast Approved Notification" email.
You'll see a link in it like:
https://itunes.apple.com/gb/podcast/the-evil-tester-show/id1300339345
The id that you need to add into PodBean iTunes configuration is the set of numbers after id
i.e. the id from the url above is 1300339345
And that's it.
Wait until it appears in the iTunes search and then start promotion.
You can also find a lot of useful 'help' information on the Apple site itself.
Apple iTunes Producing Podcasts Community
It is also worth reading through the iTunes "Producing Podcasts" Community forums:
How do you know it is findable?
search for it in iTunes
search for it in your favourite podcasting application
I use "PodCast Addict" on Android to listen to my podcasts and when my podcast appeared in the search engine of this application, I knew I was safe to promote it.
Google Play
If you are in America, then you can submit your podcast RSS feed to Google Play.
https://play.google.com/music/podcasts/publish
Sadly, I'm not, so I can't use this service yet. But currently iTunes is the defacto standard, so if you can get your RSS feed on to iTunes then you'll find that is good enough to get started.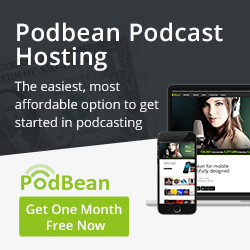 comments powered by

Disqus