POST
How to Start a Podcast
Author: Alan Richardson
I've just started a podcast. In this post I will outline the steps I took to get started.
People seem to love podcasts and therefore it seems like a viable medium to get your content into the hands of your fans.
A podcast is essentially an 'audio' show.
The fact that is is audio makes it a very low technology barrier to entry, you basically need a microphone and a recording device.
Most people have this with their laptop and their phone.
For my particular podcast I chose to make it an audio/visual podcast since I already have the skills to create video. I created a slightly different style of video which relied purely on the audio to make sense, but the video adds additional engagement for people watching.
I took this approach because one of the podcasts I listen to "The Salesman" podcast, also does this. And I originally found that podcast from its videos, and later defaulted to listening to it as an audio stream instead.
Assuming:
you have the ability to record audio
you can create an mp3 file
Here are the steps you go through to create a podcast:
create your mp3 file
identify a podcast hosting service (I chose PodBean)
create an account and configure a show on the service
upload your mp3 file to the hosting service to create an episode
register your podcast on iTunes
add your RSS feed from the hosting service to iTunes
promote your podcast
I will create separate posts to describe the above in more detail, but that's a high level summary of what I did and my PodCast was live and findable on iTunes within 48 hours.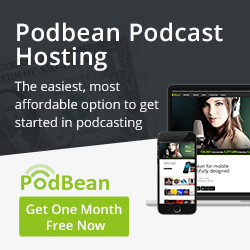 comments powered by

Disqus