POST
How to design technical e-book cover
Author: Alan Richardson
I'm lucky that I primarily write 'non fiction' and 'technical books' so my covers do not have to be particularly eye catching.
Which means that simple works for my genre.
My books are primarily sold online.
Which means the covers have to work well as thumbnails.
I sell as an ebook prior to selling on paperback.
Which means I can go live quickly without a cover - just a thumbnail with the book title
Which also means I can change the cover a number of times early in the process and experiment.
Lessons in cover design:
you need to be able to read the title
you need to be able to read the author
you don't need to see much else
One of my most recent books was "Java For Testers", shown below: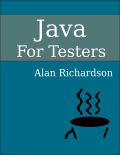 Compare the above image, to the "Selenium Simplified" cover below and you can see if I learned my lessons. This needs to be much larger to be readable, and e-book thumbnails are not normally that large.
comments powered by

Disqus