POST
PromoRepublic Social Media Creation and Scheduling Software Review
Author: Alan Richardson
For my consultancy site I've been using Buffer to schedule content in advance. For this site and associated social media accounts I've been experimenting with PromoRepublic. In this post I'll outline the differences and specifically some of the features I prefer in PromoRepublic.
PromoRepublic can manage Facebook, Twitter, Instagram and LinkedIn.
There are a few features in PromoRepublic that I really like:
built in image editor with a lot of stock images
template images you can amend
a calendar showing up and coming events and special days to piggy back posts on
the calendar shows content I have posted to the social media site regardless of which tool I used to post it
a huge selection of "Post Ideas" in case you dry up and run out of content, complete with template images
Instagram posting works the same way as buffer, you download the associated iOS or Android app and the server downloads the assets to the app on your mobile device to communicate with the Instagram app on your device.
Built in Image Editor with a lot of Stock Images and Template Images
The editor reminds me a lot of Stencil, which is probably why I like it.
The drop down of Social Media sizes makes it easy to repurpose the image for different sites.
I really appreciate the templates, which I have used - with minor edits, to create Instagram posts.
The images can be saved for re-editing and re-purposing.
The images can be sent off to the Social Media site with a click of the [Use] Button.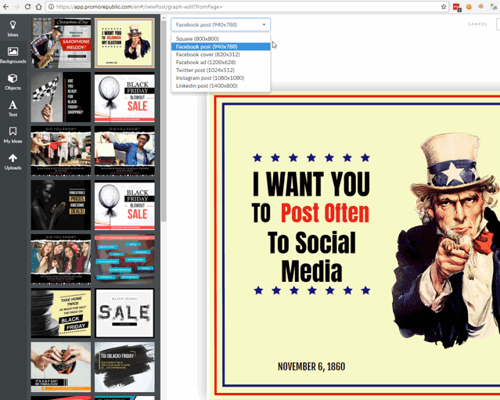 A Calendar Showing Up and Coming Events and Special Days to Piggy Back Posts On
If you want to piggy back a topical post on the Day that "Abraham Lincoln elected as President in 1860" (November the 6th by the way). Then you'll find the event in Calendar under "Events"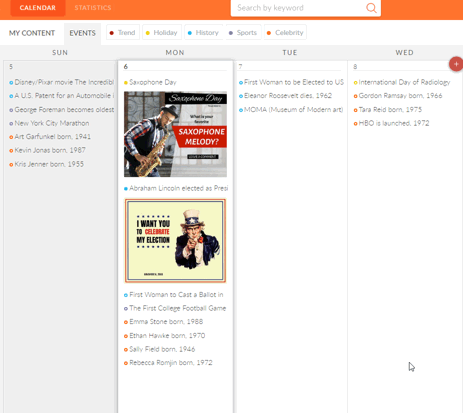 The Calendar also shows posts that I have added to the Social Media platform, regardless if I posted it natively, through PromoRepublic or from another tool.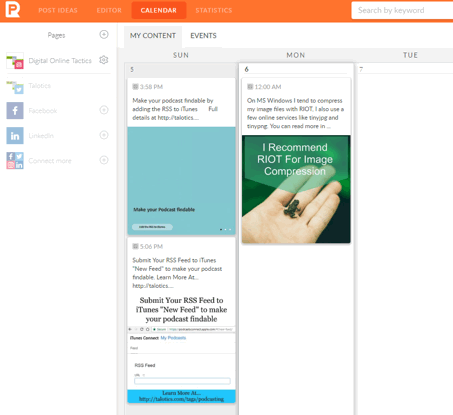 I find this surprisingly useful for tracking my previous month's work.
Post Ideas
The Post Ideas tab has ideas for all sites, and for blog posts. Including template images that you start with and fully amend to use as posts for social media sites.
I used this for a Halloween post on Talotics Instagram feed.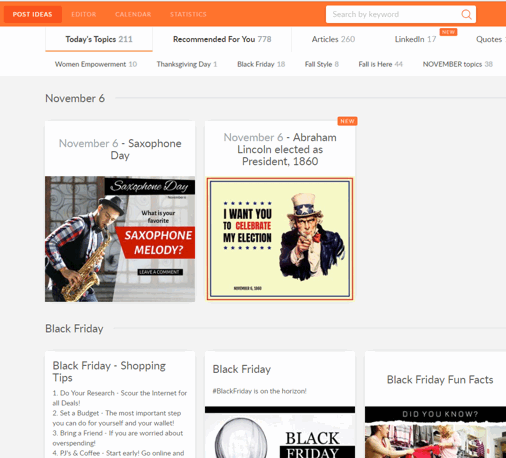 Pricing
At the time of writing, the $9 per month starter plan does not offer Post Scheduling, but you do get access to all the post ideas, templates and calendar facilities, with the ability to post directly to Facebook, Twitter, Instagram and LinkedIn.
I know that the option to post .mp4 files to Instagram is on the development road map, and I'm sure that PromoRepublic will improve in the future.
I'm using it for all of most of my Talotics post scheduling, and for much of my image editing. PromoRepublic is a tool that is worth keeping an eye on and it offers a free trial so you can see how well it fits your workflow.
comments powered by

Disqus